I love discovering new artists to listen to and I've had a pretty good track record when it comes to finding small acts before they go mainstream (if anyone has ideas on how I can actually monetize this, let me know. I'd love to be a "VC for new arists"). It's tough to see so much excellent music released without the ability for the artists to tour in support, a critial aspect of building a fanbase and making a decent living from their craft. My hope is that by the end of this post, you'll discover at least one new band to share with your friends this summer!
Here are some musicians that I'm playing in heavy rotation that are still pretty under the radar. Make sure to catch the Spotify playlist at the bottom of the post!
Quivers
I'm not sure what it is, but Australia seems to have a knack for turning out artists that are right up my alley and I love them for it. The Triple J Top 100 countdown is my new favorite holiday and I have continued to celebrate it (alone) even after I got back to the States.
Quivers has the infectious guitar licks of the Strokes with the mesmerizing harmonies of Bombay Bicycle Club. I'm absolutely addicted to their song You're Not Always On My Mind (Spotify plays: ~350k). I'm absolutely stunned that KEXP discovered this band before Triple J but it's only a matter of time before they blow up Down Under.
ROOKIE
I stumbled upon this band tucked in a mid-year Vice recap and I'm sure glad I did. When all six members of the band show up to perform in coveralls, you know they're about to get to work. And work they do, with any one of the three guitarists liable to rip a blistering solo at anytime. My favorite song off their debut album, E Jam, (Spotify plays: 11k) has the backing organ and driving cowbell reminiscient of the Southern rock bands that formed the soundtrack of my youth.
Deeper
Is there any other city in the US that can compete with Chicago when it comes to the sheer amount of talent coming of the DIY scene? Emerging from the same soup that gave us ROOKIE, Deeper released their sophomore album this summer.
I first discovered Deeper when I stumbled upon their self-titled debut (absolutely ), full of energetic and clever indie rock riffs coupled with pop punk-esque vocals and beats. Their follow-up album features more of the same without the driving intensity of their initial debut. I'd recommend check outing out Lake Song (Spotify plays: 46k) and This Heat (Spotify plays: 140k).
Nick Shoulders
Yodeling, whistling, and mullets. Need I say more? The Ozarks seem to be real similar to the Appalachains and so this music hits especially hard. Love listening to these tracks as I sit outside around a fire, sipping a beer and listening to the cicaidas.
More Fatter
It's unfortunate that More Fatter released a single called "I Don't Want To (Wash My Hands)" (Spotify plays: 109k) right as COVID was gaining momentum but it's a canonical example of More Fatter's style which I can only describe as "a lot of fun." You'll be hard pressed to find a performance where the entire band isn't smiling along with the rest of the crowd.
I knew Theo in college and it's been a true joy to see More Fatter go from a side project to filling up the Great American Music Hall and having their own roadies. I was incredibly excited to learn that Theo would be leaving the Bay—to move to LA with the rest of the band in order to go all-in on their music, as this means there will be more More Fatter in the world. Lord knows we need more of their indefatigable happiness in times like these.
No Buses
I discovered No Buses while browsing Reddit late one night, lying in a cheap Tokyo hotel bed. After living in Japan for three months and having spent the prior day walking around Harajuku, I immediately ecognized the Japanese aesthetics but was much more struck by the bright, upbeat guitars recalling the Strokes and (obviously) early Artic Monkeys.
It turns out that they were playing in Tokyo the very next night! Although the show was sold out, I played dumb and the venue was kind enough to let me in. This band has serious traction in Japan but is virtually unknown in the rest of the world (interestingly enough, they seem to have a devoted following in South America). They're putting out new tracks at a rapid clip, including a three song EP in March (favorite track is "Number Four or Five", 48k Spotify plays) and I've heard that they're about to release some new music soon. If you're a fan of the Strokes or Artic Monkeys, I'd definitely recommend checking this group out. This is partly out of self-interest, as I'd love to get enough interest here in the US to justify bringing them over on tour.
Waistline
Just some tight, no-frills Midwest emo from some kids up in Ottowa. Their debut single, Cut It Out (Spotify plays: 12.5k) is strangely intoxicating with catchy hooks and a gang-vocal chorus that makes it impossible to nod along. Looking forward to seeing more form this group in the future.
Stray Fossa
A long time ago, I was a finalist for one of those elite, full-ride scholarships that Southern public schools use in order to go head-to-head with the Ivies and West Coast schools. I attended a finalist weekend at the school's campus with about 60 other high school seniors from across the country. Thanks to the magic of Facebook, which was still very much a thing in 2012, I was able to follow along with the successful applicants years after I got rejected. Although I didn't want to admit it at the time, the selection committee clearly had a discerning eye as all the scholars are all in successful careers as Bain consultants or in med school at UCSF while I sit here, unemployed at my parent's house, writing this article.
There was one kid who stood out among the rest of us Type-A, scholarship-hungry robots. I remember him telling me about his band, and he even sent over a list of his tracks the week after we all got back: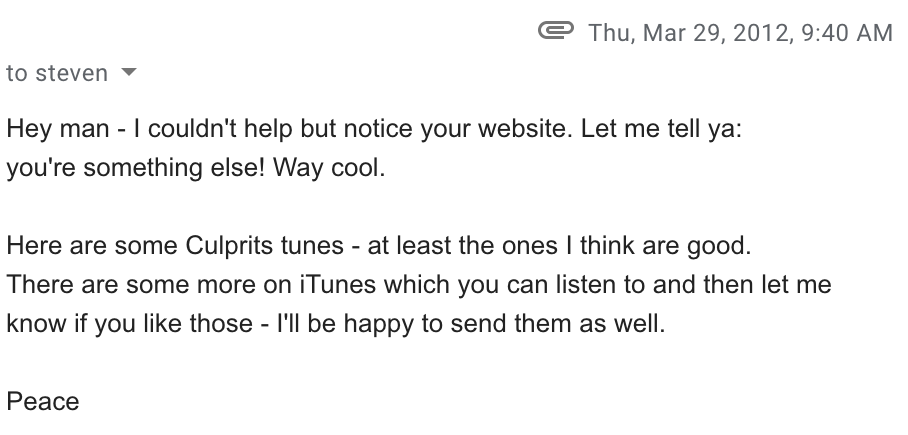 Anyways, flash-forward to early 2019. I'm wandering around the world trying to ascertain my purpose in life (I'm still looking so if you can help, let me know) when I see the aforementioned scholar posting about his new band, Stray Fossa. I hopped onto Spotify and was immediately hooked by Miss the Darker Nights (Spotify plays: 21k). Later that year, they released their debut EP, Laridae. I was finally able to catch them live at Berlin Under A, where they played an awesome acoustic version of Always Over (Spotify plays: 6k). They've steadily released singles since, each one a unique treat. Highly recommended, especially if you like dreampop.
Honorable Mentions Speed Round
Orville Peck: Although Orville Peck is certainly more well-known than the prior bands I've listed, I had the sense that he was on the cusp of breaking out before COVID hit. His recent single, Summertime (1.6m Spotify plays), is a pretty good example of his style which I can only describe as shoegaze Western.

IDLES: They claim they're not a punk band but I don't know what term would better describe a band with such a heavy sound coupled with an overtly political message. This isn't a genre of music that I normally enjoy but it's hard not to love the intensity with which they perform and their willingness to wear their heart on their sleeve. If you're not familiar with them, I'd recommend checking out the back-to-back performances of "I'm Scum" and "Danny Nedelko" are a great place to start. Most of their fanbase is based in the UK, Ireland, and Australia but don't be surprised if they crack the US when they release their third album in September.